Foxglove, Digitalis, Digital, Digit, Digitalinum, Dig.
HPUS
indication of Digitalis Purpurea:
Anxiety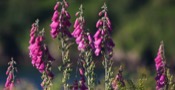 Below are the main rubriks (i.e strongest indications or symptoms) of Digitalis Purpurea in traditional homeopathic usage, not approved by the FDA.


Have you ever used Digitalis Purpurea? Yes No


< < Digitalis Purpurea- main page
BACK AND NECK
Neck
In the nape, a pressive drawing in the occiput, where the cervical muscles are inserted, when bending the head backward.
Pain as if excoriated, in the articulation of the first dorsal and the last cervical vertebrae, on bending the neck forward, but not on touching it.
Tearing and sharp shooting, in the neck, when moving it.
Pressive pain in the cervical muscles, as if they were pressed by a bandage.
Stiffness on the nape and the sides of the neck, with a pain pressive by jerks.
Painful stiffness and tension in the neck and the nape, chiefly when moving it.
Shooting pains in the muscles of the neck, when moving it.
Back
Pain in the sacrum, when stooping.
Pain in the sacrum as if bruised, when starting to move after lying down.
Pain as from bruising in the sacrum, when blowing the nose.
Tearing and sharp shooting in the sacrum, on moving.
Pain in the back, on the left side in the region of the lumbar vertebrae, a drawing cutting, diminished by pressing on it with the hand.
Tearing, below the right scapula.
Obtuse stitches between the scapulae.
Sensation as if from a knock, in the first dorsal vertebra.
Erosive itching on the left side of the loin, inciting him to scratch.
Eruption of pimples on the back.
Cutting pain, with sensation of numbness in the nape, compelling him to draw the head backward, which seems, however, to be prevented by soft dead part, jammed in between the joint.
≡ more ...