Foxglove, Digitalis, Digital, Digit, Digitalinum, Dig.
HPUS
indication of Digitalis Purpurea:
Anxiety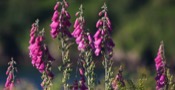 Have you ever used Digitalis Purpurea? Yes No


< < Digitalis Purpurea- main page

Below are the main rubriks (i.e strongest indications or symptoms) of Digitalis Purpurea in traditional homeopathic usage, not approved by the FDA.
CHEST
Chest
Irregular heart especially of mitral disease
very slow pulse
intermits; weak
Cyanosis
Inequality of pulse; it varies
Sudden sensation as if heart stood still
pulse weak; and quickened by least movement
Pericarditis, copious serous exudation
Dilated heart, tired, irregular, with slow and feeble pulse
Hypertrophy with dilatation
Cardiac failure following fevers
Cardiac dropsy.
Pulse
Heart; The least movement causes violent palpitation, and sensation as if it would cease beating, if he moves ( Opposite: Gelsemium Sempervirens Gels.) Frequent stitches in heart
Respiration
Desire to take a deep breath
Breathing irregular, difficult; deep sighing
Cough, with raw, sore feeling in chest
Dyspnoea, constant desire to breathe deeply, lungs feel compressed
Chronic bronchitis; passive congestion of the lungs, giving bloody sputum due to failing myocardium
Cannot bear to talk
Hemoptysis with weak heart.
≡ more ...