Foxglove, Digitalis, Digital, Digit, Digitalinum, Dig.
HPUS
indication of Digitalis Purpurea:
Anxiety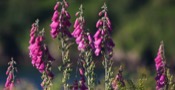 Have you ever used Digitalis Purpurea? Yes No


< < Digitalis Purpurea- main page

Below are the main rubriks (i.e strongest indications or symptoms) of Digitalis Purpurea in traditional homeopathic usage, not approved by the FDA.
CHEST
Chest
Rush of blood to chest.
Rheumatic pains; constriction; stitches.
Pains in the r. or l. side.
Throbbing-sticking, pulsating pains.
Around armpit
Rheumatic pains l. chest just below axilla only on motion.
Sticking in l. side between nipple and axilla, evening in bed, while lying on l. side.
Heart
Sensation as though heart stood still for a moment while playing the piano.
Peculiar sensation in heart with anxiety, and trembling with standing still, in the evening while sitting.
Stitches corresponding to heart pulsations.
Palpitation with dull sticking in heart while walking.
Violent palpitation in bed lying on l. side.
Action tumultuous, irregular.
Pulse slow; irregular; intermittent; jerking; hurried.
Pulse not corresponding to heart's impulse, small, thready, nearly imperceptible, while heart is strong and hammering.
Respiration
Boring l. chest from scapula forward to precordial region agg. deep breathing.
Symptoms of cold, hoarse so could hardly speak, with violent sticking pains in larynx.
Voice extinct.
Short hacking cough; whitish-yellow sputa.
Breath short; while walking; on waking.
≡ more ...