Foxglove, Digitalis, Digital, Digit, Digitalinum, Dig.
HPUS
indication of Digitalis Purpurea:
Anxiety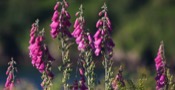 Have you ever used Digitalis Purpurea? Yes No


< < Digitalis Purpurea- main page

Below are the main rubriks (i.e strongest indications or symptoms) of Digitalis Purpurea in traditional homeopathic usage, not approved by the FDA.
CHEST
Chest
Spasmodic constriction of the throat.
Suffocating, painful constriction of the chest, as if the interior parts were grown together, especially in the morning, on awaking, he has quickly to sit up.
Tension on the chest, and pressure in the scrobiculus cordis, often forcing him to take a deep inspiration.
When raising up the body, tension on the left side of the chest, as if those parts were contracted.
Contractive pains in the sternum, increased by bending forward the head and the upper part of the body.
Drawing pain in the middle of the sternum, when walking.
Pressive drawing on the chest, when coughing.
Sharp stitches on the chest, on the right side, above the scrobiculus cordis.
Fine, eroding, itching shooting, synchronous with the pulse, in the left side, opposite the scrobiculus cordis.
Feeling of rawness and stitches in the chest.
Great heat externally on the chest, as if the stood undressed before a warm stove, soon followed by coolness about the chest.
From violent exertion of the arm, the at once feels a cutting pressure on the opposite side of the chest, anteriorly in the region of the third rib, externally.
Around armpit
Dull, pinching stitches under the ribs, below the right axilla.
Pulse
Strongly perceptible beating, as from a large artery, in the right side of the chest.
Stronger heart-beats, almost audible, with anxiety and contractive pains under the sternum.
Pressive, squeezing, contractive heart-beats, with anxiety and spasmodic pains in the sternum and under the ribs.
Heart-beats, hardly perceptible.
Respiration
Breathing, heavy, and slowly drawn from deep down in the chest.
Short breathing and not enough of it; he cannot hold his breath long, but must quickly breathe anew.
Painful asthma for many days; he had often to draw a deep breath; and yet he felt as if air failed him, especially when sitting.
With every respiration, a sensation as if he was being electrified.
Pain in the chest, pressure on the lower part of the chest when sitting bent forward, with shortness of the breath.
Hiccup
Hiccup.
Hiccup, which does not rise quite up into the throat, six or seven times.
Repeated hiccup.
≡ more ...