Foxglove, Digitalis, Digital, Digit, Digitalinum, Dig.
HPUS
indication of Digitalis Purpurea:
Anxiety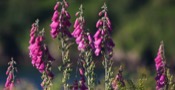 Have you ever used Digitalis Purpurea? Yes No


< < Digitalis Purpurea- main page

Below are the main rubriks (i.e strongest indications or symptoms) of Digitalis Purpurea in traditional homeopathic usage, not approved by the FDA.
CHEST
Lungs
Peculiar, seemingly rheumatic pains and catarrhal affections of the lungs, with serous exudation.
Passive congestion of the lungs, depending on a weakened, dilated heart.
Desires to lie on the back, lung constricted; sputum tough or bloody mucus.
Great weakness in the chest, can't bear to talk.
Emphysema, in complication with heart disease, feels better while lying perfectly quiet in the horizontal position.
Moist rales, yet cough dry; pulse thready. θ Senile pneumonia.
Pulse
Violent but not very rapid beating of heart.
During the climacteric, sudden flushes of heat followed by great debility, irregular pulse; least motion brings on palpitation.
Respiration
Respiration slow, asthmatic, paroxysm early in the morning, especially in cold weather.
Distressing nausea at the pit of stomach with orthopnoea.
Painful asthma, worse when walking.
Heart and pulse
Pulse small, irregular; slow; extremely slow, particularly when at rest; becomes accelerated, full and hard from every motion; intermitting the third, fifth, or seventh beat.
≡ more ...