Foxglove, Digitalis, Digital, Digit, Digitalinum, Dig.
HPUS
indication of Digitalis Purpurea:
Anxiety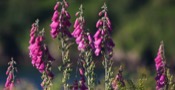 Below are the main rubriks (i.e strongest indications or symptoms) of Digitalis Purpurea in traditional homeopathic usage, not approved by the FDA.


Have you ever used Digitalis Purpurea? Yes No


< < Digitalis Purpurea- main page
COUGH
Cough
Cough and coryza, so that he can hardly talk.
The irritation to cough extends to the top of the palate.
Cough, short and dry, caused by an itching irritation in the larynx.
Dull cough, as from a titillation in the windpipe, without expectoration.
After much speaking, dry, spasmodic cough.
After eating, a cough so severe that the vomits up the food.
At twelve o'clock at night, cough, with sweat.
In the morning, on rising, dry cough, with asthma.
Dry cough, with tensive, pressive pain in the arm and shoulder.
Coughing is rendered difficult by a pain in the chest.
Expectoration from the chest, colored with blood.
Hemoptysis.
≡ more ...