Foxglove, Digitalis, Digital, Digit, Digitalinum, Dig.
HPUS
indication of Digitalis Purpurea:
Anxiety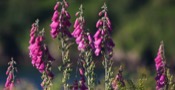 Have you ever used Digitalis Purpurea? Yes No


< < Digitalis Purpurea- main page

Below are the main rubriks (i.e strongest indications or symptoms) of Digitalis Purpurea in traditional homeopathic usage, not approved by the FDA.
EARS
Ear
Otalgia, as if the ears were internally constricted; the hears the pulsation in the ear.
Tensive pressure in the left ear.
Twitching in the external and internal ear.
Drawing pain in the muscles under the mastoid process.
Drawing pain under the right mastoid process, it goes off when pressing upon it.
Single stitches behind the ear.
The glands by and behind the ear are painfully swollen.
His hearing is suddenly obstructed, with ringing in the ear.
Hissing before both ears, like boiling water.
≡ more ...