Foxglove, Digitalis, Digital, Digit, Digitalinum, Dig.
HPUS
indication of Digitalis Purpurea:
Anxiety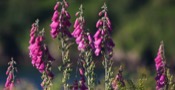 Have you ever used Digitalis Purpurea? Yes No


< < Digitalis Purpurea- main page

Below are the main rubriks (i.e strongest indications or symptoms) of Digitalis Purpurea in traditional homeopathic usage, not approved by the FDA.
EARS
Ear
Drawing pain in the left ear towards the forehead (fifteenth day),
Objective.
The glans behind the ear are painfully swollen,
External.
Drawing pain beneath the right mastoid process, relieved by pressure,
Some stitches behind the ear,
Jerking in the outer and inner ear,
Internal.
Feeling of great fulness in the ears, as if they were suddenly stopped, attended with a flush of heat over the face, lasting two of three minutes, recurring frequently, especially after excitement (fourteenth day),
Pain in the ear as if it were constricted internally; he hears the pulse in it,
A tensive pressure in the left ear,
Noises in ears,
Hearing
Sudden obstruction of the hearing, with ringing in the ear,
Tinnitus aurium (after six hours and second day),
Ringing in the ears, ; (soon),
Hissing as from boiling water, in both ears,
≡ more ...