Foxglove, Digitalis, Digital, Digit, Digitalinum, Dig.
HPUS
indication of Digitalis Purpurea:
Anxiety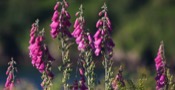 Have you ever used Digitalis Purpurea? Yes No


< < Digitalis Purpurea- main page

Below are the main rubriks (i.e strongest indications or symptoms) of Digitalis Purpurea in traditional homeopathic usage, not approved by the FDA.
EYES
Eyes
Blueness of eyelids
Dark bodies, like flies, before eyes
Change in acuteness of perception of shades of green
Objects appear green and yellow
Mydriasis; lid margins red, swollen, agglutinated in morning
Detachment of retina
Dim vision irregular pupils, diplopia.
≡ more ...