Foxglove, Digitalis, Digital, Digit, Digitalinum, Dig.
HPUS
indication of Digitalis Purpurea:
Anxiety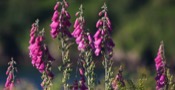 Have you ever used Digitalis Purpurea? Yes No


< < Digitalis Purpurea- main page

Below are the main rubriks (i.e strongest indications or symptoms) of Digitalis Purpurea in traditional homeopathic usage, not approved by the FDA.
EYES
Eyes
Sensation as if the eyes were becoming larger and were starting from their orbits; exophthalmus.
Hallucinations of vision.
Muscae volitantes, in evening upper part of visual field seemed shaded by a cloud.
Flickering and dazzling.
A large bright spot advancing, sometimes resembling a ring showing prismatic colours; agg. after exertion.
Circles floating before eyes.
All objects in a room seem to run together.
Yellow vision.
Halo round candle flame.
≡ more ...