Foxglove, Digitalis, Digital, Digit, Digitalinum, Dig.
HPUS
indication of Digitalis Purpurea:
Anxiety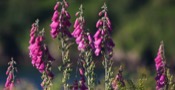 Have you ever used Digitalis Purpurea? Yes No


< < Digitalis Purpurea- main page

Below are the main rubriks (i.e strongest indications or symptoms) of Digitalis Purpurea in traditional homeopathic usage, not approved by the FDA.
EYES
Eyes
Diplopia.
Objects appear either green, yellow, or as if silvered.
Chronic inflammation of the conjunctiva.
Yellowish redness of the conjunctiva palpebrarum.
Pupils not very active.
Inflammation of the meibomian glands.
Swelling of the lower lid.
Lachrymation, worse in bright light or cold air.
Agglutination of the lids in the morning.
Both eyes turn to the left.
≡ more ...