Foxglove, Digitalis, Digital, Digit, Digitalinum, Dig.
HPUS
indication of Digitalis Purpurea:
Anxiety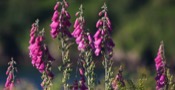 Below are the main rubriks (i.e strongest indications or symptoms) of Digitalis Purpurea in traditional homeopathic usage, not approved by the FDA.


Have you ever used Digitalis Purpurea? Yes No


< < Digitalis Purpurea- main page
FACE
Face
Paleness of the face.
Cramp under the right zygomatic arch on moving the lower jaw, which, when the bites, is drawn together spasmodically.
Paralytic drawing, below the left zygomatic arch, going off when it is pressed upon.
Cramp-like drawing pain on the zygomatic arch, before the ear.
Convulsions on the left side of the face.
Swelling of the cheek, extending from the ear to the corner of the mouth, with pain when touched, and with eruption.
Erosion and itching on the cheek and chin, worse at night.
Itching eruption on the cheek and chin, which forms a scab and leaves red spots behind.
Large pimple, with smarting pain, under the left nostril.
Red nodule, with burning, smarting pain, increased by touching, on the middle of the forehead.
≡ more ...