Foxglove, Digitalis, Digital, Digit, Digitalinum, Dig.
HPUS
indication of Digitalis Purpurea:
Anxiety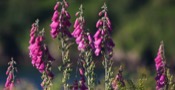 Below are the main rubriks (i.e strongest indications or symptoms) of Digitalis Purpurea in traditional homeopathic usage, not approved by the FDA.


Have you ever used Digitalis Purpurea? Yes No


< < Digitalis Purpurea- main page
FACE
Face
Objective.
Very sickly expression, so that several asked what was the matter, during the last few days (tenth day),
Face red and hot (after one hour, fifth day),
Face red and hot, as though the blood forcibly pressed behind the eyes (fourth day),
Face flushed (second day),
Face pale (after two hours and a quarter),
Paleness of the face,
Extreme pallor of the face (after seventy-two hours),
Subjective.
Hot face, as if feverish, towards evening, in the open air (second day),
Lip.
Constant jerking of the upper lip of the left side (after one hour and a half),
Chin.
Teeth firmly clenched,
Toothache in the left upper eye-tooth and first back teeth, together with pulsating pressure in the forehead, above the left brow (sixteenth day),
Transient burrowing toothache in the right back lower teeth, in the afternoon (fourth day),
Pulsating-sticking pains in the left upper incisors, for a short time (eleventh day),
Throbbing toothache for a short time in the right upper incisors, in the evening in bed (twenty-third day),
Transient throbbing toothache in the lower incisors (nineteenth day),
Tongue.
Tongue slightly coated, and yellow on sides; dry and light-red on middle and tip,
Tongue large and smooth; with a saburral coating (second day),
Dry, whitish tongue (40 gram.; second day),
General Mouth.
Mouth half open (second day),
Large doses occasionally cause a feeling of dryness in the mouth, along with some salivation, but it is not constantly observed,
Saliva.
I have occasionally noticed salivation from poisonous doses; Bouley and Reynel observe that the saliva is rather thick, and flows slowly from the mouth,
Bitter taste in mouth (after eleven hours), persistent for some time after general improvement,
Expression of extreme prostration.
Expression of the face remarkably sickly (second day),
Face pale, ; (soon), etc.
Face pale, with a greenish, livid tinge (second day),
Face remarkably pale (after four days),
Face livid (seventh day),
Convulsions of the left side of the face,
Remarkable heat and redness in the face, lasting half an hour,
Cheeks.
Swelling of the cheek from the ear to the corner of the mouth, painful to touch, and with eruption upon it,
Cramp beneath the right zygoma, on moving the lower jaw, which on biting, became spasmodically drawn upward,
Paralytic drawing beneath the left zygoma, in front of the ear,
Cramplike drawing pain in the zygoma, disappearing on pressure,
Lips.
Swelling of the lips,
Swelling on the inside of the lower lip, without pain,
Stitches in the lower jaw,
Face pale,
Lips anaemic,
≡ more ...