Foxglove, Digitalis, Digital, Digit, Digitalinum, Dig.
HPUS
indication of Digitalis Purpurea:
Anxiety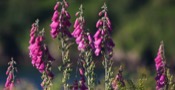 Below are the main rubriks (i.e strongest indications or symptoms) of Digitalis Purpurea in traditional homeopathic usage, not approved by the FDA.


Have you ever used Digitalis Purpurea? Yes No


< < Digitalis Purpurea- main page
GENERALITIES
Fatigue
Lazy and weary, in the morning, on rising from bed.
Lassitude, unbending and weariness, in bodily and in mental respects.
Great lassitude in the arms and legs.
Frequent lassitude; she has to lie abed, because sitting up tires her.
General weakness, as if all parts of the body were tired out (aft. 2 h.).
Extreme weakness and lassitude, which the patient thinks he cannot bear without dying.
Frequent yawning and stretching, with chilliness.
Frequent drowsiness.
Frequent great drowsiness.
Early drowsiness in the evening, with indolence and stupor of the spirit, for several days.
Sleep and dreams
A deep sleep.
Deep sleep from noon till midnight.
Difficult going to sleep (6th, 7th d.).
Before going to sleep, frequently a sensation of great emptiness in the stomach.
Uneasy sleep.
Uneasy, unrefreshing sleep.
At night, merely slumber, instead of sleep, with clear consciousness, without being able to sleep soundly.
Restless sleep, with tossing about and waking up half conscious.
Restless sleep, he could not lie on any other spot but on his back.
At night, violent pain in the left shoulder-joint and the elbow-joint; in a half-conscious sleep, lying on his back, the left arm over his head.
At night, tossing about with frequent awaking, at the same time, he always lies on his back, with frequent pollutions.
At night, restless sleep, owing to constant urging to urinate.
Restless sleep, with tossing to and fro in bed, with merry dreams.
Many, not disagreeable dreams.
Many confused, vivid dreams.
Disagreeable dreams of many miscarried projects, disturb his sleep.
Anxious, confused dreams.
Frequent awaking, as from anxiety, and impression that it was already time to get up.
Frequent waking in a fright at night, owing to his dreaming, that he was falling down from a height or falling into water.
Convulsions
Convulsions of a violent kind.
Convulsions.
Generalities
Epileptic fits.
Nervous symptoms of every kind, and great debility.
Emaciation of the body, in proportion as the intellectual activity increases.
Feeling of great tightness in the body.
Awkwardness and clumsiness of the limbs.
Heaviness and indolence of the limbs.
Lack of tone of all the muscles, with a sensation as if he had not slept enough.
Extreme languor.
Considerable degree of languor, with vertigo and intermitting pulse.
Sinking of the vital powers.
Weakness, sinking of the strength.
General weakness.
Great weakness.
Extreme weakness.
Sudden sinking of the strength, with general sweat, and a few hours later, cough.
Sudden, extreme weakness, as if he would lose his consciousness, with general heat and sweat, without thirst (after dinner).
Relaxation of the vital powers and tendency to fainting.
Tendency to syncopes.
Great tendency to syncopes.
Constant tendency to fainting fits.
Syncopes.
Syncopes, between the attacks of nausea.
Deadly apoplexy.
Drowsy weariness; slumber.
Coma.
Somnolence, interrupted by violent, convulsive fits of vomiting.
Small, quick, hard pulse.
Small, soft pulse.
Irritated pulse.
Quickened pulse (aft. 1 h.).
First quickened, then retarded pulse.
Irregular, small pulse.
Irregular pulse; unequal distension of the arteries.
Irregular, weak pulse.
Irregular and slow pulse.
Slow pulse of fifty beats, which were quite irregular, always between three or four soft beats, one full and hard beat, on the first day; on the third, seventy-five beats.
The slow, small pulse frequently makes shorter or longer pauses.
The pulse is at first slow, then suddenly commences to make a couple of beats, or it now and then loses a whole bet.
Slow, irregular pulse, from forty to fifty-eight beats.
Slow pulse.
Extremely slow pulse the first forty-eight hours; but then the more accelerated and suppressed.
Slower, but stronger pulse.
Retardation of the pulse from one hundred to forty beats.
Retarded pulse of forty beats.
Retardation of the pulse from eighty-two to thirty-nine beats, with weakness and laziness of the body.
Slow pulse, sunk to fifty and then to thirty-five beats.
Retardation of the pulse by one-half, for several days.
Retardation of the pulse beats to almost half their number.
When the pulse has become slow, it is accelerated by the slightest bodily exertion.
The pulse is retarded little when standing and sitting, but chiefly when lying, when it sinks down to sixty, while it is one hundred when he stands.
≡ more ...