Foxglove, Digitalis, Digital, Digit, Digitalinum, Dig.
HPUS
indication of Digitalis Purpurea:
Anxiety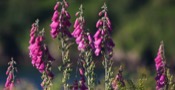 Below are the main rubriks (i.e strongest indications or symptoms) of Digitalis Purpurea in traditional homeopathic usage, not approved by the FDA.


Have you ever used Digitalis Purpurea? Yes No


< < Digitalis Purpurea- main page
GENERALITIES
Sleep
Lethargy, great sleepiness.
Uneasy, unrefreshing sleep.
Frequently startled and awaking, at night.
Nausea and vomiting
Nausea, as if she would die.
Constant nausea and gagging, with clean tongue, covered with white slime.
Inclination to vomit.
Persistent nausea and vomiting; nausea even after the vomiting.
Vomiting in the morning; of food; of bile.
Eating and drinking
Eating 27. Drinking cold things 27.
Tissues
Piercing pains in the joints.
Distended veins on the eyes, ears, lips and tongue.
Flabby, oedematous swelling all over; with fluttering, weak pulse, cold legs.
Contact, Injuries, etc.
Riding 2.
Nerves
Great weakness.
Temperature and weather
Getting heated 27. Open air 27. Cold 40. Cold air 5. Cold weather 26.
Chill, Fever and Sweat.
Chill more internal, with warmth of face, beginning with cold extremities, then spreading over the body.
Chilliness and shivering over the whole back.
Internal chill, with external heat.
Chill, with heat and redness of the face.
Chill and heat in alternation.
Excessive coldness of the hand and feet, with cold sweat.
Great sensitiveness to cold.
Sudden flushes of heat followed by weakness.
Heat of body, with cold sweat of face.
One hand hot the other cold.
Sweat at night, generally cold and somewhat clammy.
Sweat immediately after the chill.
Sweat on upper part of body; on the face.
Sides.
Right 18. Left 32. Below up 40.
≡ more ...