Foxglove, Digitalis, Digital, Digit, Digitalinum, Dig.
HPUS
indication of Digitalis Purpurea:
Anxiety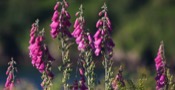 Below are the main rubriks (i.e strongest indications or symptoms) of Digitalis Purpurea in traditional homeopathic usage, not approved by the FDA.


Have you ever used Digitalis Purpurea? Yes No


< < Digitalis Purpurea- main page
GENERALITIES
Sleep and dreams
Sleepiness.
Frequent yawning and stretching, with chilliness,
Drowsy and incapable of study till evening (eighth day),
Sleepiness early in the evening, with indolence and dullness of mind for several days,
Frequent sleepiness,
Great sleepiness after eating, with frequent yawning after dinner, for several days,
Frequent great sleepiness,
Sleep,
Deep sleep,
Fell into a deep sleep,
Deep sleep from noon till midnight,
A long, sound slumber (first cupful), (immediately),
Lethargic sleep, lasting several hours,
Coma,
Coma, interrupted by violent convulsive attacks of vomiting,
Sleeplessness.
Difficult falling asleep (sixth and seventh days),
It was with difficulty that I could sleep, although I was at times in a state of stupor (nineteenth and twentieth days),
Sleep disturbed and uneasy (fifth day),
Uneasy sleep; he lies only upon the back,
Sleep uneasy and unrefreshing (second day),
Uneasy sleep at night on account of constant urging to urinate,
Uneasy sleep, with tossing about the bed and voluptuous dreams,
Very uneasy sleep, with frequent waking, and burning heat of the face, subjective as well as objective as well as objective (first night),
Frequent waking, as from anxiety, and as if it were time to rise,
Frequent waking at night in fright, by dreams of falling from a height or into water,
But little sleep, disturbed by dreams (sixteenth night),
Slept but little during the night, and my mind had somewhat of that restless activity which I have experienced after taking too much wine, but particularly after taking Tinct. Opii (sixth night). Very drowsy when I went to bed, but did not sleep soundly (seventh night),
Restless sleep, with tossing about and waking with semi-consciousness,
Tossing about at night, with frequent waking, always lying upon the back, with emissions,
At night, only slumbering instead of falling asleep; complete consciousness without being able to sleep,
Inability to sleep; night very restless, violent palpitation, with an almost jerking pulse at one o'clock at night (seventh night),
Restless night, starting after in my sleep (second night),
Very restless night, with frequent waking (second night),
Night very restless. The gentle sleep which I had several times was troubled by dreams which were remarkable for excessive imagination (first night),
Night generally very restless, sleep frequently interrupted by waking, and full of dreams (third night),
Sleepless night, which, however, had not produced any moral depression (fourteenth night),
Night was sleepiness, and I felt in no way disposed to sleep. This state resembled that into which I had been brought under the influence of Merc Viv Mercury in other experiments (fifteenth night),
Passed a wakeful night, suffering from palpitation of the heart and uneasiness, especially when lying on the left side, together with pulsations in the ears, especially the left (fifteenth night),
No sleep for five nights,
Dreams.
Many dreams, not unpleasant,
Many confused, vivid dreams,
Anxious confused dreams,
Unpleasant dreams, full of unsuccessful projects, disturb the sleep,
Perspiration
Skin inclined to be moist (eight and ninth days); moisture increased (fourteenth and fifteenth days),
Nightsweat during sleep,
General slight sweat in the morning on waking,
Covered with a copious perspiration,
Cold sweat, continuing six days,
Body covered with cold sweat (seventh day),
Warm perspiration in the palms of the hands,
≡ more ...