Foxglove, Digitalis, Digital, Digit, Digitalinum, Dig.
HPUS
indication of Digitalis Purpurea:
Anxiety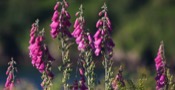 Have you ever used Digitalis Purpurea? Yes No


< < Digitalis Purpurea- main page

Below are the main rubriks (i.e strongest indications or symptoms) of Digitalis Purpurea in traditional homeopathic usage, not approved by the FDA.
HEAD
Head
Headache, coming with an ebullition, beating like waves toward both sides in the interior of the head, aggravated by standing and by bending backward, diminished by lying down and by bending forward.
Pulsating sensation as if the brain, like water, was beating against both sides of the skull, and would burst it, with obtuseness.
Headache
Headache.
Headache for several days.
Headache, with obtuseness of the head.
Headache in the frontal region.
Headache on stooping, at once in the morning, after rising.
Headache, pressure and heaviness as from a rush of blood to the head.
Pressive headache, with slight obtuseness.
Pressive headache in the occiput, or starting from the vertex and extending all over the head, arising from original feeling of obtuseness.
Pressive, very acute headache, after awaking in the morning, all the forenoon.
Pressive pain in the head, so much aggravated in the afternoon and especially in the evening, that he has to lie down before his customary time; during the day the pain made work impossible.
Sharp pressive pain in the forehead, on a small spot above the eye.
Violently shooting pains in the head, especially in the occiput and the crown.
Throbbing headache in the forehead or in the fundus of the orbits.
Semilateral headache, as if from an internal itching.
At the occipital protuberance, a pressive pain as from a knock or a fall.
≡ more ...