Foxglove, Digitalis, Digital, Digit, Digitalinum, Dig.
HPUS
indication of Digitalis Purpurea:
Anxiety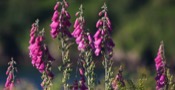 Have you ever used Digitalis Purpurea? Yes No


< < Digitalis Purpurea- main page

Below are the main rubriks (i.e strongest indications or symptoms) of Digitalis Purpurea in traditional homeopathic usage, not approved by the FDA.
MIND
Mind
Dejection and anxiety.
Sadness, with a sensation of being quite sick; all objects seem to him as in the changed visual sensation of fever.
Great sadness and dejection, the whole time.
Tearful sorrow over many things which have failed with him.
Anxiety, as if originating in the epigastrium.
Anxiousness, with many sighs, during the whole time.
Anxiousness, with great apprehension of the future, more intense every evening at 6 o'clock, with sadness and weeping, which give relief.
Anxiety, as if he had done wrong.
Internal anguish, like anguish of conscience, as if he had committed a crime, or had to expect reproaches (continuing for more than three months).
Great anguish.
Anxious apprehension of a sad kind, with great dejection, extremely aggravated by music.
Despondency.
Fear of death.
Great excitability; he is very much affected by everything, but especially by sad things, and the least trifle can throw him into disconsolate despair (continuing over three months).
Great inclination to solitude.
Indisposed to talk.
Gloominess and peevishness.
Gloomy, morose humor, the scolds about everything.
Indifference and lack of interest.
Very indifferent to everything, for several days.
Indifferent mood, looking down before him, as if he had not finished his sleep, but without drowsiness.
Well disposed for mental work and all business. (Curative effect).
Violent desire for work (aft. 1 ½ h.).
Peaceable, tranquil mood. (After-effect.).
Many vivid fancies.
Delirious talk and restlessness, at night.
Secret insanity, with disobedience and obstinacy; he tries to run away.
Weakness of memory.
Thinking requires an effort, and he would at once forget everything again, with internal and external heat in the head.
The head is affected.
Gloominess of spirit, with indifference, mostly in the evening.
Gloomy in mind, as if hypochondriac.
Obtuseness of the head.
Dizziness of the head, with inability to recollect.
Obtuseness of the head, with very limited power of thinking.
Head muddled, as from intoxication, with increased cerebral activity.
≡ more ...