Foxglove, Digitalis, Digital, Digit, Digitalinum, Dig.
HPUS
indication of Digitalis Purpurea:
Anxiety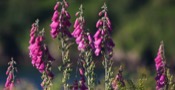 Below are the main rubriks (i.e strongest indications or symptoms) of Digitalis Purpurea in traditional homeopathic usage, not approved by the FDA.


Have you ever used Digitalis Purpurea? Yes No


< < Digitalis Purpurea- main page
MODALITIES ETC
Appetite
Little appetite, he feels sated at once.
Lack of appetite, with clean tongue.
Anorexia, with great emptiness in the stomach.
Loss of appetite.
Total anorexia, in the morning and evening.
Violent hunger, also in the afternoon.
Thirst.
Thirst for acid drinks.
Desire for bitter food.
Bread tastes bitter, with good appetite.