Foxglove, Digitalis, Digital, Digit, Digitalinum, Dig.
HPUS
indication of Digitalis Purpurea:
Anxiety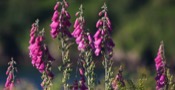 Have you ever used Digitalis Purpurea? Yes No


< < Digitalis Purpurea- main page

Below are the main rubriks (i.e strongest indications or symptoms) of Digitalis Purpurea in traditional homeopathic usage, not approved by the FDA.
MODALITIES ETC
Aggravation
(Afternoon), About six o'clock, anxiety, etc.; towards evening heartburn; about five or six o'clock, vomiting, etc.; towards evening, colicky pains, etc.
(Evening), Dullness of mind, etc.; pressure in head; headache; frontal headache; heaviness of lids; in bed, on closing eyes, pain in margin of lids; in bed, toothache; especially on rising from sitting, tearing in abdomen; desire to take deep breath; especially while writing, pain in chest.
(Night), Delirium; irrational talking, etc.; sneezing; nausea, etc.; vomiting; urging to urinate; pain in left shoulder, etc.; swelling of hand, etc.; biting, etc.; on cheeks, etc.; itching on hand; itching on foot; sweat.
(Midnight), Cough.
(Bending backwards), Headache.
(Bending forwards), Pain in sternum.
(After dinner), Pain, etc., of stomach; bruised pain in epigastrium; sensation in heart, etc.; yawning.
(Drinking), Vomiting.
(While eating), Stitches in side.
(After eating), Nausea; fulness of stomach, etc.; while sitting, not while standing, food presses in stomach; cough; sleepiness.
(Excitement), Feeling in ears, etc.
(Expiration), Stitches in side of abdomen.
(Heat), Headache.
(On laying one leg over the other), Cutting in thigh.
(Movement), Headache; pain in abdomen; tearing, etc.; in back; pain in small of back; aching in thighs, etc.
(Music), Apprehensiveness, etc.
(Pressure), Stitches in thumb.
(Rising from sitting), Vertigo, etc.; difficult respiration.
(In room), Lachrymation.
(Sitting), Contraction in abdomen; dyspnoea; drawing in side of thigh.
(Long sitting), Cough, etc.
(Standing), Headache.
(Before stool), Chilliness.
(After stool), Pressure on both sides of spine.
(Stooping), Headache; tension on parietal portion of brain; pain in small of back.
(On straightening up body), Pressure in stomach.
(Thought), Pressure in forehead.
(Touch), Only when standing, not when sitting, stitches in pit of stomach.
(Walking), Headache; tearing in umbilical region; pain in middle of sternum; stitches in upper arm; sticking in bend of thigh; pain in tibiae.
(Warm room), The symptoms.
Worse
Standing, talking, shaking or bending it backward.
WORSE, when sitting erect, after meals and music.
Raising up
Exertion
Heat
Lying on L
side
Motion
Smell of food
Cold drinks
Excesses Sexual
Amelioration
(Beating on chest), Pressure in chest, etc.
(Lying), Undulating headache.
(Pressure), Pain behind mastoid process; pressure in zygoma; pain in pit of stomach; pain in side of black.
(Stooping), Undulating headache.
Better
Inclining it forward.
BETTER, when stomach is empty; in open air.
Rest
Cool air
Lying flat on back
Desires and aversions
No appetite, tongue clean, stomach empty.
Appetite
Awakened with violent sensation of hunger (twenty-second day),
Appetite very little, though the tongue was quite clean, and the taste normal (seventh day),
No hunger, though the usual time for breakfast had long since passed (twenty-fifth day),
A sensation of hunger which was very great when taking the dose, entirely disappeared after one hour; it seemed as though the stomach were very much distended and its contents were standing up in the throat (twenty-fifth day),
Diminished appetite,
Appetite diminished, especially in the evening (tenth day),
Very little appetite (sixth day),
Want of appetite (third day),
Thirst.
Urgent thirst (40 gram.; second day),
Very urgent thirst,
Thirst very great, especially for beer (ninth day),
Eructation.
Frequent, tasteless eructations (third day),
Slight increase of the appetite (fifth day),
Painful feelings of hunger (after twelve hours),
At short intervals, a painful feeling of hunger (eight and ninth days),
Appetite less than usual (seventh day),
Appetite slight, is immediately satisfied,
Appetite light,
Loss of appetite,
Loss of appetite, with clean tongue,
Loss of appetite, with great emptiness of the stomach,
Thirst,
Much thirst (second day),
Urgent thirst,
Excessive thirst, caused by great dryness of the mouth and pharynx; this thirst tormented him the whole night; was not quenched by copious draughts of beer and water (after 3 grs.),
Extremely thirsty; desire for cold drinks (third fourth, and fifth days),
Violent thirst and dryness of the mouth,
Thirst for sour drinks,
Eructations and Hiccough.
Sour eructations after eating,
Eructations of a tasteless liquid,
Eructations of an acid fluid,
Eructations of an acrid fluid, followed by acidity in the mouth like vinegar,
Hiccough,
Hiccough, which does not rise quite up to the throat, six or seven paroxysms,
Frequent hiccough,
Very frequent hiccough (after fourth day),
Heartburn.
Heartburn towards evening (fourth day),
Little appetite, he feels sated at once.
Lack of appetite, with clean tongue.
Anorexia, with great emptiness in the stomach.
Loss of appetite.
Total anorexia, in the morning and evening.
Violent hunger, also in the afternoon.
Thirst.
Thirst for acid drinks.
Desire for bitter food.
Bread tastes bitter, with good appetite.
Position etc
Rest 29. Motion 21, 29, 47. Walking 2, 21, 26, 27. Lying quiet horizontally 28.
Morning 5, 16, 25, 26, 27. Evening 20, 27. 6 P.M. 1. Night 22, 37, 40. Midnight 27. Day and night 1.