Foxglove, Digitalis, Digital, Digit, Digitalinum, Dig.
HPUS
indication of Digitalis Purpurea:
Anxiety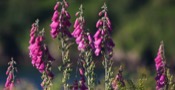 Have you ever used Digitalis Purpurea? Yes No


< < Digitalis Purpurea- main page

Below are the main rubriks (i.e strongest indications or symptoms) of Digitalis Purpurea in traditional homeopathic usage, not approved by the FDA.
MOUTH
Gums and teeth
Burrowing, sticking, pulsating pains in teeth; l. upper eye tooth; r. back lower teeth; l. and r. upper incisors.
Saliva
Saliva rather thick, flows slowly from the mouth.
Tongue
Tongue large and smooth with a saburral coating.
Taste
Bitter taste.
≡ more ...