Foxglove, Digitalis, Digital, Digit, Digitalinum, Dig.
HPUS
indication of Digitalis Purpurea:
Anxiety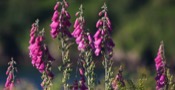 Have you ever used Digitalis Purpurea? Yes No


< < Digitalis Purpurea- main page

Below are the main rubriks (i.e strongest indications or symptoms) of Digitalis Purpurea in traditional homeopathic usage, not approved by the FDA.
MOUTH
Mouth
Black perspiration pores on the skin of the face, which fester and suppurate.
Eruption on the upper lid.
Fetor of the mouth.
Lips
Swelling of the lips.
Swelling on the inner side of the lower lip, without any pain.
Gums and teeth
The teeth in the front row are painful.
Flow of saliva, with soreness in the mouth, on the tongue and in the gums for three days.
Saliva
Collection of saliva in the mouth, with spitting of it out, and great nausea on swallowing it down.
Accumulation of saliva, as after vinegar.
Collection of watery saliva in the mouth, first tasting sweet, but later on very salty, frequently recurring.
Collection of very sweet saliva.
Flow of saliva.
Flow of saliva.
Tongue
Swelling of the tongue.
Tongue coated, for several days.
Tongue coated white, in the morning.
Taste
Copious flow of saliva of fetid smell.
Flat, slimy taste.
Taste as of sweet almonds, after smoking tobacco.
Jaw
In the lower jaw, stitches.
≡ more ...