Foxglove, Digitalis, Digital, Digit, Digitalinum, Dig.
HPUS
indication of Digitalis Purpurea:
Anxiety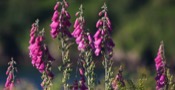 Below are the main rubriks (i.e strongest indications or symptoms) of Digitalis Purpurea in traditional homeopathic usage, not approved by the FDA.


Have you ever used Digitalis Purpurea? Yes No


< < Digitalis Purpurea- main page
MOUTH
Mouth
Breath fetid,
Teeth
General Mouth.
Offensive odor from the mouth,
Mouth moist and thick (first day),
The mouth is very soft and rough, as if covered with velvet,
Gums and teeth
Gums anaemic,
The front teeth are painful,
Pulsating toothache in the left lower eyetooth, in the evening, in bed, lasting half an hour; this symptom was certainly caused by Digitalis, since I have never in my life suffered from toothache, and my teeth are quite sound (third day),
Accumulation of saliva, with soreness of the mouth, tongue, and gums, for three days,
Saliva
Dryness in the mouth,
Saliva.
Quantity of saliva increased (fifth day),
Increase of the salivary and urinary secretions (after twelve hours),
Accumulation of saliva,
Accumulation of saliva as after vinegar,
Accumulation of saliva in the mouth, with ecptysis and great nausea on swallowing it,
Accumulation of very sweetish saliva,
Accumulation of watery saliva, which is at first sweetish, but afterwards salty, in frequent attacks, 12.
Profuse collection of saliva of a viscid consistence,
Considerable and constant flow of saliva,
Mouth full of mucus (third day),
Tongue
Tongue moist, with grayish-white coating,
Tongue thickly coated,
Tongue white,
Tongue.
Tongue coated for several days,
Tongue slightly coated,
Tongue pale (second day),
Tongue white (after four days),
Tongue coated white, in the morning,
Tongue covered with a white coat, and slightly swollen (second day),
Tongue covered with a yellow coating, and considerably swollen (third day),
Swelling of the tongue,
He bites his tongue,
Taste
Taste.
Flat slimy taste,
Taste as of sweet almonds, after smoking,
Bread tastes bitter, with a good appetite,
Fauces
Soreness of the mouth, fauces, and oesophagus,
Palate
Dryness of the palate and pharynx with the nausea (second day),
Stitches in the posterior portion of the palate, and in the beginning of the throat, not noticed on swallowing,
Scraping, raw feeling in the palate,
Roughness of the palate, as after too much smoking,
≡ more ...