Foxglove, Digitalis, Digital, Digit, Digitalinum, Dig.
HPUS
indication of Digitalis Purpurea:
Anxiety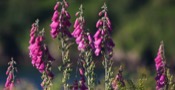 Below are the main rubriks (i.e strongest indications or symptoms) of Digitalis Purpurea in traditional homeopathic usage, not approved by the FDA.


Have you ever used Digitalis Purpurea? Yes No


< < Digitalis Purpurea- main page
NOSE
Nose
Pain above the root of the nose.
Epistaxis from both nostrils, bright blood (aft. 1 h.).
Roughness in the windpipe.
Hoarseness in the morning.
Great hoarseness in the morning, after a night-sweat, so that he could not speak.
Hoarseness, in the morning, on awaking.
Frequent painless hoarseness.
Adhesive phlegm in the throat, detached by coughing.
Adhesive mucus in the larynx, detached by a hacking cough.
Expectoration in the morning, by involuntary retching.
Mucus in the throat in the morning, which is easily detached, but when he wishes to cough it up, it generally gets into the fauces, so that he has to swallow it.
Discharge
Much sneezing, without a cold, during the first days.
Coryza in the morning, with stoppage of the nose.
Fluent coryza, with much sneezing, followed by stoppage of the nose.
Stuffed coryza, in the night and evening, but fluent coryza by day (aft. 20 d.).
≡ more ...