Foxglove, Digitalis, Digital, Digit, Digitalinum, Dig.
HPUS
indication of Digitalis Purpurea:
Anxiety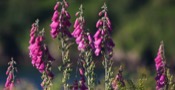 Below are the main rubriks (i.e strongest indications or symptoms) of Digitalis Purpurea in traditional homeopathic usage, not approved by the FDA.


Have you ever used Digitalis Purpurea? Yes No


< < Digitalis Purpurea- main page
NOSE
Nose
Objective.
Found that for some days before vomiting came on, clear drops of water were always gathering at the nose,
Nasal mucus streaked with blood in the morning (I do not remember having lost blood from the nose for several years), (ninth day),
Subjective.
Pain in the left nostril returned as in the previous proving (second day),
Smell.
Epistaxis of bright blood from both nostrils (after one hour),
Pain across the root of the nose,
Discharge
Frequent sneezing in the afternoon, and in short, all the forebodings of a coryza (first day),
Frequent sneezing, with dry nose (sixth day),
Frequent sneezing, and occasional paroxysm of coughing, with expectoration of very hard tenacious mucus (eighth day),
Frequently obliged to sneeze, with profuse secretion from the nose (first day),
A peculiar affection of the mucous lining of the nose, declaring itself under the form of a violent coryza, seems to constitute a characteristic symptom,
Coryza broke out more violently than I had experienced since the proving of Digitalis, although during the winter I had several times suffered from coryza; particularly remarkable was the frequent sneezing, which I did not usually have in coryza (second day),
The coryza continued to decrease, though not the painfulness of the left nostril; the mucous discharge in the morning is streaked with blood (tenth day),
Symptoms of commencing coryza came on towards evening (third day), there was no trace of them the next morning, but they came on more violent in the evening, with complete stoppage of the nose and great confusion in the head (fourth day),
The coryza is much better, though the left nostril is very sensitive and painful on blowing the nose, as far up as the glabella (ninth day),
The coryza continues unusually violent; smell is lost (fourth day),
Much sneezing, without coryza (first days),
Awakened three times during the night from a quiet sleep, by violent sneezing, which seemed to start from the stomach and rise up as a slight nauseous sensation until it affected the nerves of sneezing (first night),
Coryza in the morning, with stoppage of the nose,
(Constant, very violent coryza, mostly with loss of smell, with catarrh of the larynx and trachea, and expectoration of greenish mucus, without cough, during the whole proving),
Stooped coryza in the evening and night, fluent during the day (twentieth day),
Fluent coryza with much sneezing, followed by stoppage of the nose,
≡ more ...