Foxglove, Digitalis, Digital, Digit, Digitalinum, Dig.
HPUS
indication of Digitalis Purpurea:
Anxiety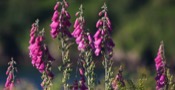 Below are the main rubriks (i.e strongest indications or symptoms) of Digitalis Purpurea in traditional homeopathic usage, not approved by the FDA.


Have you ever used Digitalis Purpurea? Yes No


< < Digitalis Purpurea- main page
RECTUM, ANUS, STOOL
Stool
Call to stool.
Several stools during the day.
Stool, two or three times a day, for several days.
Soft, liquid, frequent stool (aft. 72 h.).
Thin stool.
Thin evacuation.
Thin stool, two or three times a day, and on the following morning, constipation (aft. 24 h.).
Diarrhoea.
Violent diarrhoea.
Diarrhoea, with subsequent urging to stool, in the rectum.
Painful diarrhoeas for three or four days.
Diarrhoeas with colic during and before the stool.
Diarrhoea of faces mixed with mucus, preceded by bellyache, sometimes pressive, sometimes cutting, which went off each time he went to stool (aft. 6 to 8 h.).
Yellow, white stool, without any trouble after constipation for forty-eight hours.
Ash-colored diarrhoea, as with one having jaundice.
Ash-colored, pappy diarrhoea, as in jaundice, after previously vomiting four times, followed by fainting.
Almost incurable dysenteries.
Involuntary evacuation of stool.
Many ascarides in the stool, in the evening.
Before the diarrhoeic stool, in the morning in bed, bellyache, more tearing than shooting.
Before the stool, chill.
After the stool, pressure on both sides of the spine in the lumbar region.
≡ more ...