Foxglove, Digitalis, Digital, Digit, Digitalinum, Dig.
HPUS
indication of Digitalis Purpurea:
Anxiety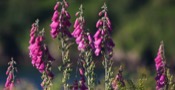 Below are the main rubriks (i.e strongest indications or symptoms) of Digitalis Purpurea in traditional homeopathic usage, not approved by the FDA.


Have you ever used Digitalis Purpurea? Yes No


< < Digitalis Purpurea- main page
RECTUM, ANUS, STOOL
Rectum
The desire for stool, which existed before taking the dose, became urgent, with sensation as though diarrhoea would follow, yet the stool was normal (fifteenth day),
Urgent desire for stool, with violent griping pains in the abdomen; evacuation not copious, soft, though not diarrhoea-like; towards evening, another pasty stool preceded by griping and offensive flatus (twenty-second day),
Urging to stool,
Rectum and anus
RECTUM AND ANUS.
Stool
Diarrhoea.
Many stools (after three hours and a half),
Two stools in forenoon (first day); three stools in forenoon (third day); two stools (fourth day),
Two stools since morning, soft but not like diarrhoea (fourth day),
Diarrhoeal stool (fourth day),
Shortly after vomiting had a loose stool, but no persistent diarrhoea,
Constipation.
Constipation,
In small doses it seems to produce constipation,
Bowels open once; stool extremely scanty, consisting of about a dozen pellets like those of rabbits, and one about the size of a Juglans Regia walnut; the latter floated, the former sunk in water,
Stool hard and unsatisfactory, although during the last two days I had walked more than usual; the first after two days and a half (twenty-ninth day),
No action of the bowels (second day), ; (third day),
Diarrhoea, ; (after fourth day),
Diarrhoea, consisting of faces mixed with mucus, preceded by colic, at one time pressive, at another cutting, which always disappears on going to stool (after six and eight hours),
Diarrhoea, preceded and followed by colic,
Diarrhoea, followed by urging to stool in the rectum,
Slight diarrhoea (fourth day),
Violent diarrhoea,
Almost incurable diarrhoea,
Ash-colored diarrhoea (as in jaundice),
Ash colored, pasty diarrhoea, as in jaundice, follows four attacks of vomiting, with faintness thereafter,
Painful diarrhoea for three or four days,
Bowels rather relaxed (fourteenth and fifteenth days),
Several stools during the day,
Several fluid stools (second day),
Several bilious stools (third day),
Two and three stools a day for several days,
Bowels moved naturally in the morning and again at nine in the evening (second day),
Thin stool two or three times a day, the next morning constipation (after twenty-four hours),
Two thin discharges from the bowels at one and eleven P.M.,
Abundant stools (very soon),
Copious stools,
Intestinal evacuations were copious, and seemed to contain a good deal of bilious matter (sixteenth day),
Gentle intestinal evacuations, which were bilious and mucous (nineteenth day),
Involuntary stool,
Soft, liquid profuse stool (after seventy-two hours),
Thin stool,
Yellowish-white stool, without symptoms, follows retention for forty-eight hours,
Slight fecal evacuation (second day),
One scanty green evacuation from bowels (third day),
Many thread worms with the stool in the evening,
Constipation (for several days),
Constipation nearly the whole time,
Bowels confined,
Stool somewhat retained during all the provings, very unusual, since the stools have always been free and healthy,
Faeces scanty,
Very hard, difficulty, though rather copious stool at 11 P.M. (first day),
Diarrhoea frequent,
STOOL.
≡ more ...