Foxglove, Digitalis, Digital, Digit, Digitalinum, Dig.
HPUS
indication of Digitalis Purpurea:
Anxiety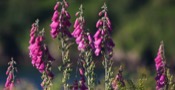 Have you ever used Digitalis Purpurea? Yes No


< < Digitalis Purpurea- main page

Below are the main rubriks (i.e strongest indications or symptoms) of Digitalis Purpurea in traditional homeopathic usage, not approved by the FDA.
SKIN
Skin
Erythema, deep red, worse on back, like measles
Blue distended veins on lids, ears, lips and tongue
Dropsical
Itching and jaundiced.
≡ more ...