Foxglove, Digitalis, Digital, Digit, Digitalinum, Dig.
HPUS
indication of Digitalis Purpurea:
Anxiety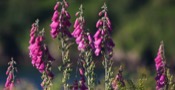 Below are the main rubriks (i.e strongest indications or symptoms) of Digitalis Purpurea in traditional homeopathic usage, not approved by the FDA.


Have you ever used Digitalis Purpurea? Yes No


< < Digitalis Purpurea- main page
SKIN
Skin
Eroding itching on various parts of the body, recurring soon after scratching.
The eroding itching becomes even worse, if he does not scratch the parts, and is finally heightened into unbearable, burning needle-pricking, which occasionally diminishes, but soon returns worse.
Tearing, burning and somewhat itching needle-pricks in various parts.
Peeling off of the skin of the whole body.
Ticking of the affected part.
Tight, white swelling of the whole body, with great painfulness at every touch; after many weeks it goes off, becoming soft and passing into anasarca.
Tight, painful swelling, first of the legs, and then also of the hands and fore-arms, only passing off slowly after several months, while the pulse is in no way retarded, and without increased flow of urine.
General paleness of the skin.
Jaundice.
≡ more ...