Foxglove, Digitalis, Digital, Digit, Digitalinum, Dig.
HPUS
indication of Digitalis Purpurea:
Anxiety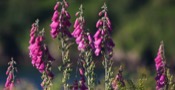 Have you ever used Digitalis Purpurea? Yes No


< < Digitalis Purpurea- main page

Below are the main rubriks (i.e strongest indications or symptoms) of Digitalis Purpurea in traditional homeopathic usage, not approved by the FDA.
VERTIGO, DIZZINESS
Vertigo
Vertigo, when walking and on rising, in cardiac and hepatic affections
Morning
Night
Night; on waking
Closing eyes
From intense emotions; during anxiety
As if intoxicated
While leaning against anything
From looking at.
looking upwards
looking steadily
When lying down; while lying down
While riding
On rising
from a seat
After rising
from a seat
While sitting
While standing; against something
On stooping
Trembling
While walking
when walking up a hill
≡ more ...