Male Fern, Felix-mas, Filix, Fil.
Not available to buy through our store.
HPUS
indication of Filix Mas:
Worms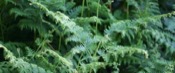 Have you ever used Filix Mas? Yes No


Below are the main rubriks (i.e strongest indications or symptoms) of Filix Mas in traditional homeopathic usage, not approved by the FDA.
GENERALITIES
Fatigue
The bloating of the abdomen diminished, but there was developed, as I think, on consequence of the Filix mas, a severe prolapsus of the vagina, and pain and tenesmus of the bladder, with copious and frequent emission of urine, with intense pain, which continued until after I abandoned the use of the Filix and gave Chimaphila, and those painful symptoms of vagina and bladder did not return, except in consequence of great fatigue, as long walks, much standing, etc.

≡ more ...

Filix Mas is not available to buy over the counter.