Geran, Ger.
HPUS
indication of Geranium Maculatum:
Headache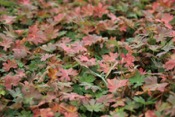 Below are the main rubriks (i.e strongest indications or symptoms) of Geranium Maculatum in traditional homeopathic usage, not approved by the FDA.


Have you ever used Geranium Maculatum? Yes No


< < Geranium Maculatum- main page
GENERAL
General
Wild Cranesbill. N. O. Geraniaceae. Tincture and triturations of root. Infusion of the plant.
There are two fragmentary provings of Geran. mac. one made with root preparations, one with infusion of the plant. The chief symptoms observed have been diplopia and other disorders of vision (these were observed by the prover of the decoction; the remaining symptoms resulted from the root preparation).
and constant and ineffectual desire for stool. In the mother tinctures and lower attenuations it has been used successfully in cases of haemorrhage from various parts.
Clinical
Diarrhoea. Diplopia. Dysentery. Haemorrhages. Leucorrhoea. Stool, ineffectual urging to. Throat, sore.
Characteristics
nose, stomach, lungs. Under the use of the drug the blood in haemorrhages becomes darker, clots more easily, and is much less in quantity. The root contains both tannic and gallic acids. It has also been used for chronic diarrhoea and for leucorrhoea.