Black Lead, Graphite, Graph.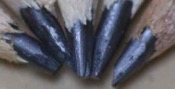 Have you ever used Graphites? Yes No


Below are the main rubriks (i.e strongest indications or symptoms) of Graphites in traditional homeopathic usage, not approved by the FDA.
ABDOMEN
Abdomen
Stomach; Aversion to meat
Hot drinks disagree
Morning sickness during menstruation
Pressure in stomach
Burning in stomach, causing Hunger
Constrictive pain in stomach
Recurrent gastralgia
Stomach pain is temporarily relieved by eating, hot drinks especially milk and lying down.
Nauseous feeling in abdomen
Croaking in abdomen
Inguinal region sensitive, swollen
Pain of gas opposite the side on which he lies
Chronic diarrhoea, stools, brownish, liquid, undigested, Offensive
Very fetid gas preceded by colic.
Eating
Nausea and vomiting after each meal
Eructation
Eructation difficult
Flatus
Flatulence
Fullness and hardness in abdomen, as from incarcerated flatulence; Must loosen clothing; presses painfully at abdominal ring
Nausea
Sweets nauseate
≡ more ...