Black Lead, Graphite, Graph.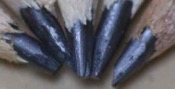 Have you ever used Graphites? Yes No


Below are the main rubriks (i.e strongest indications or symptoms) of Graphites in traditional homeopathic usage, not approved by the FDA.
ABDOMEN
Abdomen
Tension, shootings, and beatings in the hypochondria.
Hepatic pains after breakfast, which render it necessary to lie down.
Fulness and heaviness, in abdomen.
Abdomen enlarged, tight, inflated. Inflation of the abdomen, with congestion of blood to the head, heaviness in the head, and vertigo.
Hardness in the abdomen.
Nocturnal, cramp-like pain in all the intestines, with deficient secretion of urine.
Rumbling in the abdomen.
Croaking, as of frogs in the abdomen.
Painful sensitiveness of the groins.
Painful swelling of the inguinal glands.
Erysipelatous inflammation, with large vesicles near the navel.
Pressive, stitching, boring pain in region of navel; extending into back and hypochondria; with habitual costiveness; agg. evening.
Appetite
Bitter or acid taste, with sourness in the mouth and throat.
Immoderate hunger (with acidity of the stomach).
Hot things disagree with stomach.
Eating
Sour regurgitation of food.
Frequent hiccough, esp. after a meal.
Nausea, esp. in the morning, or after every meal, with inclination to vomit.
Obstinate vomiting of food.
Great thirst in the morning, and after a meal.
Repugnance to cooked food, and to meat also to anything saline or saccharine.
Weakness of digestion, with drowsiness, headache, pains in the stomach, fulness, and inflation of the abdomen, after a meal.
Flatus
Incarceration and accumulation of flatus in the abdomen.
Expulsion of an excessive quantity of fetid flatus, preceded by pinchings.
Vomiting
Vomiting after the slightest loathing, with great nausea and pinching in the abdomen.
Acid vomitings.
Colic, and pressure on the stomach, sometimes with vomiting, amel. by a recumbent position, and by the heat of the bed.
Stomach
Frequent and sometimes abortive risings.
Sour risings, with bitterness in the mouth.
Bitter and green regurgitations.
Water-brash, at night.
Retching, with rising up of mucus.
Cramp-like pains, or squeezing, as from claws in the stomach.
At night, pinching in the stomach, with digging in the chest.
Burning pain in the stomach, which compels eating.
Cramps in stomach amel. by eating.
≡ more ...