Black Lead, Graphite, Graph.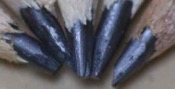 Have you ever used Graphites? Yes No


Below are the main rubriks (i.e strongest indications or symptoms) of Graphites in traditional homeopathic usage, not approved by the FDA.
BACK AND NECK
Neck
The nape and the shoulders are painful on lying on them and on turning over, (owing to the glandular swellings on the side of the neck, and yet these themselves are not painful).
Pain, so that she would like to scream, in the neck and on both shoulders, on bending the head forward; she cannot raise either of her arms to her head for pain.
Violent pains in the nape of the neck.
Stiffness and shooting pain in the neck.
Excoriative, cutting pain, as from an ulcer, on the seventh cervical vertebra.
Painful tension in the nape and on the right side of the neck, on moving the head.
Stitches on both sides of the neck, when moving the head.
Many lumps about the neck, which disfigure it, like a large goitre, but after a few days, they pass away entirely.
The glands on the side of the neck, down toward the shoulder, are swollen and painful when the neck is bent sideways, and when lying on it, as if tense and stiff.
Back
In the coccyx, a dull drawing, in the evening.
Severe itching on the coccyx, above the anus, with moisture and scurfy formation.
Pains in the sacrum, very violent, for two hours.
Severe pain in the sacrum, in the morning on rising, going off on motion.
Violent pain in the sacrum, as after long stooping (5th, 6th d.).
Pain as from a bruise in the sacrum.
Violent pain as from a bruise, in the sacrum, particularly when touched.
Pressure in the sacrum.
Severe griping and twisting in the sacrum, as with a pair of tongs, and then also pain in the arms and feet, as if it would turn them outward.
Shooting pain in the sacrum (aft. sev. h.).
Throbbing in the sacrum.
Pain in the back; pressure by the side of the spine.
Pressure in the back, between the scapulae.
Violent drawing in the back.
Contractive pain between the scapulae, day and night.
Rheumatic pain in the left scapula, for several days.
Stitches and pains in the left scapula.
Pain, as from bruising, in the scapulae.
Crawling on the back, as from ants.
Stiffness of the nape.
Tearing stitches in the nape, frequently (aft. 21 d.).
Rheumatic pain in the nape (aft. 12 d.).
Sensation on turning the head to the left side, as if there was a hard body of the size of an egg behind the ear (9th d.).
The axillae are painful, for two days (aft. 26 d.).
Pinching and shooting in the right axilla (12th d.).
In the left shoulder, rheumatic pain.
Tearing in the left shoulder joint, on moving the arm.
Violent tearing in the right shoulder at night; it goes off through external warmth.
≡ more ...