Black Lead, Graphite, Graph.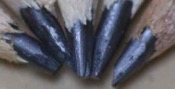 Have you ever used Graphites? Yes No


Below are the main rubriks (i.e strongest indications or symptoms) of Graphites in traditional homeopathic usage, not approved by the FDA.
BACK AND NECK
Back and neck
Eruption on the nape, dry, peeling in fine, mealy scales, without itching.
Contracting pains in the back.
Weakness in back and loins on walking.
Sacral pains, with sensation of crawling and stitching.
Small of back aches, as if bruised or broken.
Numb pain, from the sacrum down the legs.
Pain in the os coccygis while urinating.
Neck
Pain in nape of neck.
Stiffness of back of neck; also, with headache.
Seventh cervical vertebra sensitive, with burning pain; anaemia.
Unpainful swollen glands on side of neck.
≡ more ...