Black Lead, Graphite, Graph.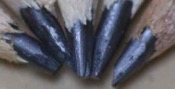 Below are the main rubriks (i.e strongest indications or symptoms) of Graphites in traditional homeopathic usage, not approved by the FDA.


Have you ever used Graphites? Yes No

CHEST
Chest
Nocturnal attacks of suffocation, on going to sleep, or on walking in the open air.
Suffocative paroxysm at night, awakens him out of sleep, usually after midnight; must quickly jump out of bed, hold himself firmly to something, and quickly eats whatever is at hand, which gives relief; or hoarse cough (asthma).
Pain in the chest on ascending, on riding on horseback, on yawning, or on putting the hand on the chest.
Perspiration on the sternum every morning.
Swelling and induration of the mammary glands.
Soreness of the nipples, with small corrosive blisters.
Pressive, cramp-like pain in the chest.
Spasms in the chest.
Shootings in the chest on the least movement.
Heart
Palpitation of the heart on the least movement.
(Constant emptiness and coldness about the heart and in chest, with sadness.).
Region of heart constriction; pressure; stitches.
Sensation like electric shock from heart toward front of neck.
Strong pulsations of blood in whole body, but esp. about heart, agg. by every motion.
Throbbing in region of heart, in evening, after lying down, when lying on l. side so violent that the covering was moved thereby, with anxiety; disappearing on turning over.
Pulse
Pulse full and hard, but not accelerated.
Respiration
Difficulty of respiration and oppression on the chest.
Wheezing respiration.
Sensitiveness of the larynx.
Catarrhal roughness and hoarseness, with sensation of excoriation, burning pain and scraping in the throat, coryza and obstruction in the chest.
Voice false (for singing).
Accumulation of slimy matter in the chest.
Cough, produced by roughness of the throat.
Cough at night, or in the evening in bed, excited by taking a full inspiration, with oppression of the chest.
≡ more ...