Black Lead, Graphite, Graph.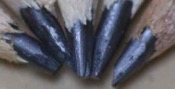 Below are the main rubriks (i.e strongest indications or symptoms) of Graphites in traditional homeopathic usage, not approved by the FDA.


Have you ever used Graphites? Yes No

EARS
Ears
Dryness of the internal ear.
Fetid smell and discharge of blood and of pus from the ears.
Scabs, tetters, running, and excoriation, behind the ears.
Hardness of hearing.
Hardness of hearing, amel. by the motion of a carriage.
Singing, tinkling buzzing, and rumbling like that of thunder in the ears.
Buzzing in the ears at night.
Sensation, as if air were enclosed in the Eustachian tube.
Sensation as if the (l.) ear were filled with water.
Sensation as if a skin were before the ear.
Whistling in the ears.
Cracking in the ears when moving the jaw.
Beating
Shootings and beatings in the ears.
≡ more ...