Black Lead, Graphite, Graph.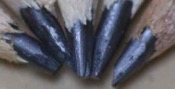 Have you ever used Graphites? Yes No


Below are the main rubriks (i.e strongest indications or symptoms) of Graphites in traditional homeopathic usage, not approved by the FDA.
EARS
Ears
Music makes her weep.
Reverberations in the ear, even his own words and every step.
Hissing; ringing; rushing; roaring; cracking; or clucking sounds in the ears.
Violent nocturnal roaring, ears feel stuffed at times (during the full moon).
Sounds as of rolling thunder before the ears.
Cracking in the ear when eating in the evening; on moving the jaw, but only in the morning while lying in bed; when sneezing.
Snapping as if a skin were before the ears.
At every step feels as if a valve in right ear opened and closed.
Loss of hearing, with dryness of the ears.
Acute pressure in the inner ear, like otalgia.
Stitches in the ears.
Distended capillaries on the membrane of right drum.
Both tympana covered with a white coating, but not perforated.
Lining membrane of meatus red and excoriated.
Thin, watery, offensive discharge from both ears.
Gluey, sticky discharge at the external meatus.
Pus runs out of the ear.
Bad odor from the ear.
Cuprum Metallicum Copper-colored nodes on the ears.
Swelling of both ears, with moist eruption behind the ears.
Eczema impetigenoides; began as a moisture behind the left ear, thence spread over the cheeks and neck.
Behind the ears fissures; scabs.
≡ more ...