Black Lead, Graphite Graph.
Available
in 3C-30C, 200C, 6X-30X, 1M-10M, 30C, 200CH from $6.59
Purchase options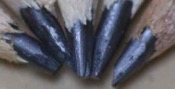 Below are the main rubriks (i.e strongest indications or symptoms) of Graphites in traditional homeopathic usage, not approved by the FDA.


Have you ever used Graphites? Yes No

EXTREMITIES, LIMBS
Upper extremities
Tearing and lancinating in the shoulders.
Sensation of contraction in the joint of the elbow, on extending the arms.
Cramp and tearing in the hands.
Emaciation of the hands.
Erysipelas, callosities, dry skin, and cracks in the hands.
Pain as from dislocation, in the joint of the thumb.
Swelling and inflexibility, stiffness and distortion of the fingers.
Granulated eruption and corrosive vesicles on the fingers.
Arthritic nodosities on the fingers.
Tettery excoriation between the fingers.
Thickness of the nails of the fingers.
Lower extremities
Heaviness, lassitude, and numbness of the legs in the open air.
Excoriation between the legs.
Arthritic tearing in the hip-joint, the feet, and the toes.
Numbness and stiffness of the thighs, and of the toes.
Restlessness in the legs.
Tetters on the thighs, on the hands, and on the tibia.
Sensation of contraction in the tendons of the ham, and in the tendo Achillis.
Tension in the varices, on extending the legs.
Stiffness and want of flexibility in the knee, which does not permit sitting squat.
Cramps and starting of the muscles in the calves of the legs.
Congestion in the legs and in the feet, when standing upright.
Ulcers in the legs.
Swelling of the legs and of the feet, with hardness and shooting pain.
Stiffness of the instep.
Shooting pain, like that of an ulcer, in the heel and in the soles of the feet, on rising from the sitting posture.
Cold feet, even in the evening in bed.
Feet burning.
Fetid sweat on the feet.
Contraction of the toes.
Swelling and distortion of the toes.
Sore pain of the corns.
Callous skin, corrosive vesicles and ulcers on the toes.
Ulceration on the borders of the big toe.
Tettery excoriation between the toes, with violent itching.
Thickness and deformity of the toe-nails.
≡ more ...