Black Lead, Graphite, Graph.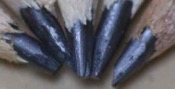 Have you ever used Graphites? Yes No


Below are the main rubriks (i.e strongest indications or symptoms) of Graphites in traditional homeopathic usage, not approved by the FDA.
EYES
Eyes
Eyelids heavy and falling, as if paralysed.
Aching in the eyes and eyelids, as if sand had been introduced into them.
Shootings in the eyes.
Heat and burning sensation in the eyes, esp. by candle-light.
Inflammation of the eyes, with redness of the sclerotica, injection of the veins, swelling and abundant mucous secretion of the eyelids.
Hordeolum, with drawing pain.
Dry humour in the eyelids, and in the eyelashes.
Agglutination of the eyelids and lachrymation.
Pressure and stinging in the eyes, with lachrymation.
Agglutination of the eyes early in the morning.
Dry gum in the eyelashes.
Obscuration of the sight on stooping.
Myopia.
Confusion of characters on reading.
Sparkling before the eyes.
Photophobia, esp. by day, inflammation and red, swollen eyelids.
Intolerance to the light of day.
≡ more ...