Black Lead, Graphite, Graph.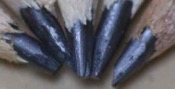 Below are the main rubriks (i.e strongest indications or symptoms) of Graphites in traditional homeopathic usage, not approved by the FDA.


Have you ever used Graphites? Yes No

FACE
Face
Pale yellow complexion, with livid circles under eyes.
Flushes of heat in face.
Erysipelatous inflammation and swelling of the face (burning and stinging; the erysipelas spreading in rays), with eruption of vesicles.
Erysipelas preceded by chills and heat alternating; beginning r. side of face, going to l.
Encysted tumour on the cheek.
Constant sensation, as if the face were covered with cobweb.
Semi-lateral paralysis, and distortion of the muscles of the face, with difficult articulation.
Drawing and tearing pains in the bones of the face.
Eruption on the face, in appearance as if the skin were raw.
Scabs and moist pimples on the face.
Ephelis.
Falling off of the beard.
Ulcers on the internal surface of the lips.
Fissures in the ulcerated lips.
Ulcerated corner of the mouth.
Lips cracked.
Scabby eruption on the chin and round the mouth.
Painful nodosities in the lower jaw.
Swelling and hardness of the submaxillary glands.
≡ more ...