Black Lead, Graphite, Graph.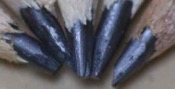 Have you ever used Graphites? Yes No


Below are the main rubriks (i.e strongest indications or symptoms) of Graphites in traditional homeopathic usage, not approved by the FDA.
FACE
Face
Paleness of the face.
Sudden paleness of the face from light mental occupation, e.g., reading.
Paleness of the face, with blue rims around the eyes.
Yellowness of the face, with weary eyes, as if worn out (aft. 24 h.).
Erysipelas on both sides of the face, with burning shooting pain, then coryza for one day, with shooting in the gums (aft. 7 and 14 d.).
Swelling of the left side of the face, in the morning after rising.
Constant sensation as from cobwebs in the face.
Pain, alternating in all the bones of the face.
Drawing pain in the left upper jaw.
Very painful tearing in the left zygoma, which almost made her scream, in the evening, in bed.
Spasmodic contraction of the muscles of mastication.
He cannot open his jaws when eating, owing to pain in the masticating muscles; it is as if they were paralyzed.
Itching in the right temples, very violent, with burning after scratching.
Itching pimple in the face, humid after scratching.
A sort of encysted tumor on the cheek.
The lips are dry.
Quivering on the upper lip.
Shooting in the upper lip, as if a needle and thread were drawn through it, in the evening.
Burning and feeling of heaviness in the lower lip.
Sore pain, as from excoriation, in the left corner of the mouth.
Soreness and chapping of the lips and nostrils, as from a chill.
≡ more ...