Black Lead, Graphite, Graph.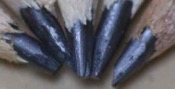 Below are the main rubriks (i.e strongest indications or symptoms) of Graphites in traditional homeopathic usage, not approved by the FDA.


Have you ever used Graphites? Yes No

FACE
Face
Objective.
Paleness of the face,
Pale color of the face, with blue rings around the eyes,
Sudden paleness of the face, after moderate mental excitement, as for example, reading,
Yellowness of the face, with weak eyes, as if exhausted (after twenty-four hours),
Swelling of the left side of the face, in the morning, after rising,
Subjective.
Constant sensation as of a cobweb on the face,
Pain alternately in all the bones of the face,
Cheeks.
A kind of cystic swelling of the cheek,
Spasmodic twitchings in the masseter muscles,
She is unable to close the jaws when eating, on account of pain in the masseter muscles, as if they were paralyzed,
Drawing pain in the left upper jaw,
Tearing, very painful, in the left zygoma, so that she had to cry out, in the evening in bed,
Lip.
Blisters as large as poppy seeds on the vermilion border of the lower lip of the left side, which rub off on washing, but form anew after four hours (fourth days),
The left corner of the mouth is ulcerated,
A scaly painless ulcer in both corners of the mouth,
Twitching of the upper lip,
The lips are dry,
Burning and a feeling of heaviness in the lower lip,
Stitches in the upper lip, as if a needle and thread were drawn through it, in the evening,
Soreness and cracking of the lips and nostrils, as from cold,
Sore pain in the left corner of the mouth
Chin.
Swelling of the glands beneath the chin,
Sticking tearing in the left side of the lower jaw,
≡ more ...