Black Lead, Graphite, Graph.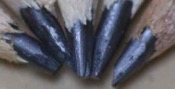 Below are the main rubriks (i.e strongest indications or symptoms) of Graphites in traditional homeopathic usage, not approved by the FDA.


Have you ever used Graphites? Yes No

FEVER AND CHILL
Fever
Shiverings, morning and evening, with or without heat, and followed by perspiration.
Chill and chilliness, principally in the evening, after 4 p.m.
General dry heat, evening and night, preceded by a chill.
Heat when riding in a carriage.
Perspiration sour, colouring the linen yellow, of offensive smell.
Inability to perspire.
Perspiration, often very fetid, on the least movement, or on the least fatigue, even from speaking.
Nocturnal sweat, sometimes fetid.
Quotidian fever; shaking chill in the evening; an hour afterwards heat in the face, and cold in the feet, without any subsequent perspiration.
≡ more ...