Black Lead, Graphite, Graph.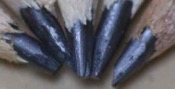 Below are the main rubriks (i.e strongest indications or symptoms) of Graphites in traditional homeopathic usage, not approved by the FDA.


Have you ever used Graphites? Yes No

GENERAL
General
(Morning), Irritable, etc.
confusion of head.
on waking, vertigo.
stupid in head. on waking, headache.
tearing in head. in bed, while half asleep, dull headache.
in bed, pain in temple.
in bed, one-sided headache.
burning in eyes. after waking, beating in ear.
small in nose. after rising, swelling of sides of face.
on stooping, saliva runs from mouth.
after eating or drinking, water comes into the mouth.
mucus in mouth. after rising, taste in mouth.
on rising, pain in throat.
thirst. after rising, hiccough.
during menstruation, nausea, immediately after rising, nausea.
after rising, nausea, etc.
qualmishness, etc. pressure in pit of stomach.
immediately after rising, stitches in hypochondrium.
in bed, and for some time after rising, rumbling in abdomen.
colic. in bed, cutting in anus.
in bed, urging to urinate.
after rising from bed, leucorrhoea.
on rising, especially on inspiration, oppression of chest.
in bed, pulsation in heart.
on rising, backache. tearing in thigh.
in bed, pain in knees.
in bed, cramp in calves.
during first hours after rising, pain in malleoli.
burning of the heels. trembling.
after rising, pain in whole body.
dread of open air. in bed, chilliness.
after breakfast, coldness.
cold feet. in bed, sweat.
sweat on sternum..
(Evening), Anxiety.
depressed mood. while walking, reeling, etc.
during menstruation, headache.
pain in head. after eating, stitches in ear.
when eating cracking in ear.
in bed, screaming in ears.
nosebleed. in bed, tearing in zygoma.
while sitting, leaning backward, toothache.
swelling of the gum. hiccough.
in bed, nausea. fulness, etc.
in abdomen. in bed, tickling in larynx.
hoarseness. on lying down, cough.
dyspnoea. after lying down, when lying on left side, throbbing in region of heart.
jerking in the limbs. in bed, jerkings in the arms.
before going to sleep, chilliness.
after 5 o'clock, coldness.
shaking chill. cold hands, etc.
shivers in back. dry heat.
(Night), Raving.
anxiety. after lying down, thoughts full of care.
headache. roaring in ears, etc., nosebleed.
smell in nose. toothache.
pain in teeth, etc. dryness of mouth, etc.
eructations. waterbrash.
inclination to vomit. pressure in pit of stomach.
on waking, beating beneath short ribs.
pain in abdomen. fulness, etc., in lower abdomen.
frequent micturition. dragging to urinate, etc.
attacks of suffocation.
sticking in shoulder, etc.
in bed, sticking in thigh.
pain in knees. cramp in calves.
during sleep, jerkings.
pimply eruption. chilliness, etc.
heat. sweat..
Incipient paralysis of the left side of the face after some swelling of it and some toothache.
the muscles of the right side of the face suddenly become distorted, the mouth drawn to the right side, and its motion as well as speech impaired.
the left eye frequently becomes closed involuntarily, while the right one could not be completely closed, but frequently remained open in bright light, wind, and dust (after eighteen days),.
Some small pimples appear on the trunk and upper part of the thighs (possibly caused by the warm weather, a not unusual symptom with me).
after three days, however, this eruption assumed a peculiar appearance, the pimples increased to the size of a pin's head, and became filled with fluid at the tip, and were brownish yellow (during the latter part of the proving),.
Absolutely no desire for coition, the first thirty days after taking Graphites.
even his fantasies, which were usually very lively, were cold, and there was no inclination to erections.
but after this everything became aroused to so great a degree that even the touch of a woman caused great sexual excitement and trembling in all his limbs,.
GENERAL SYMPTOMS.
Objective.
Emaciation,
Trembling in the morning,
Slight jerkings at night, during sleep,
Loss of inclination to work,
Great indolence of the whole body, which disappeared after a long walk,
Weariness and falling asleep, after dinner,
Great weariness and sleepiness, in the forenoon and towards evening, with much yawning,
Great weariness, while walking in the open air,
Amazingly weary and sleepy (after a few hours),
Weakness after coition (after fourteen days),
Great weakness, especially of the limbs, which he is scarcely able to move, with constant weariness,
Sudden sinking of strength,
Exhaustion even to sinking down, with retching and nausea, during and after walking in the open air,
Weak exhaustion of the whole body, as from catarrh,
Faintlike exhaustion, as if beginning in the abdomen, while walking in the open air,
Attacks of faintness (after eight days),
Constant tossing about at night, without weariness,
Subjective.
Sensitiveness to every draft of air, with hoarseness, chilliness, dryness of the nose and anxiety, in the evening,
Takes cold easily, and has headache therefrom,
He takes cold easily, is obliged to avoid drafts,
Sensation as from loss of sleep, in the morning; it is very difficult to get out of bed,
Malaise, though free in the head,
Indisposed, frightened (nervous),
General sick feeling; he is obliged to groan without knowing for what pain,
A momentary pain here and there at times, followed by soreness of the part,
Painful drawing tension of the whole body, during rest and motion, especially of the arms and trunk,
Cramp like sensation from time to time in various parts, arms, neck, fingers, feet, whereupon the parts are swollen for a few days, become red, indurated, and sensitive to external touch,
Drawing pain in the whole body, as in intermittent fever, in the morning, after rising,
Pain rather pressive than drawing in the periosteum of all the bones, only for a moment, now here, now there, during rest, especially on falling asleep,
Stitches shoot like lightning through the whole body from above downward,
Stitches as from needles, here and there, in the whole body,
Prickings, now here, now there, in the whole body,
Bruised pain of the whole side of the body upon which he lies, in the midday nap; and the arm is asleep,
Violent pulsation of the blood in the whole body, especially at the heart, aggravated by every motion,
Violent beating of blood at the heart, and in the rest of the body, on every slight motion,
Tremulous sensation through the whole body,
Shocks at times through the whole body, as from fright or an electric shock, during rest or motion,
Dread of the open air, in the morning,
Pains return on beginning to walk,
The symptoms disappear while walking in the open air,
GENERAL SYMPTOMS.