Black Lead, Graphite, Graph.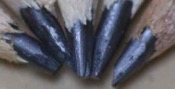 Below are the main rubriks (i.e strongest indications or symptoms) of Graphites in traditional homeopathic usage, not approved by the FDA.


Have you ever used Graphites? Yes No

GENERALITIES
Fatigue
General lassitude.
Sleep
Great drowsiness during the day, and early in the evening.
Difficulty in falling asleep.
Agitated sleep at night, with frequent waking.
Nocturnal sleep incomplete, as if only dozing.
Unable to fall asleep before midnight on account of a fixed idea.
Unrefreshing sleep at night, followed in the morning by a comatose sleep.
At night, profusion of ideas, sometimes troublesome.
Great agitation at night, with anxious and frightful dreams, oppression and choking.
During sleep, starts, with fright.
At night, discomforting ideas, anguish, heat, inquietude, startings, gastric sufferings, and many other affections.
Perspiration about the head, when falling asleep.
Bleeding from the nose at night.
Wakens at night from a suffocative attack.
Constant talking during sleep.
Wetting the bed at night while asleep.
Generalities
Cramp-like pains, cramps and contraction in different parts.
Tension in some parts, as from contraction of the tendons.
Starting and distortion of the limbs.
Arthritic pullings and tearing in the limbs and joints, esp. in ulcerated parts.
Arthritic nodosities.
Tendency to strain the back.
Limbs become easily numbed.
Stiffness and complete inflexibility of the joints.
Hard swellings, with shooting pains.
Nocturnal pains, which are felt even during sleep.
The symptoms disappear after a walk in the open air.
Varices, with shootings, tension, and itching.
Swelling and hardness of the glands.
Pains during change of weather.
General uneasiness (sensation of debility), which extorts groans, without any distinct sensation of pain.
Strong pulsation in the whole body, and esp. in the heart, augmented by the least movement.
Pulling in the whole body, with urgent inclination to extend the limbs.
Sensation of trembling in the whole body, with jerking of the limbs.
Great emaciation.
Great tendency to take cold, and fear of the open air, and of currents of air.
Rapid failure of strength.
≡ more ...