Black Lead, Graphite, Graph.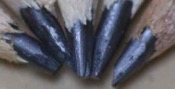 Have you ever used Graphites? Yes No


Below are the main rubriks (i.e strongest indications or symptoms) of Graphites in traditional homeopathic usage, not approved by the FDA.
GENITALS ETC
Urine
Turbid, with sediment
Sour smelling.
Womb
Induration of ovaries and uterus and mammae
Genitals
Leucorrhoea, PALE, thin, Profuse, white, excoriating, with great weakness in back
Mammae swollen and hard
Nipples sore, cracked, and blistered
Decided aversion to coitus.
Male; Sexual debility, with increased desire; aversion to coition; too early or no ejaculation; herpetic eruption on organs.
Menses
Female; Menses Too late, with constipation; pale and scanty, with tearing pain in epigastrium, and itching Before
Hoarseness, coryza, cough, sweats and morning sickness during menstruation
≡ more ...