Black Lead, Graphite, Graph.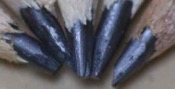 Have you ever used Graphites? Yes No


Below are the main rubriks (i.e strongest indications or symptoms) of Graphites in traditional homeopathic usage, not approved by the FDA.
GENITALS ETC
Urine
Urgent, anxious, and painful want to make water, with emission drop by drop, with a stitch in the urethra, when emitting it.
Scanty secretion of a deep-coloured urine, soon becoming turbid, with white or reddish sediment.
Urine of an acrid sour smell.
Stream of water small, as if from contraction of the urethra.
During micturition pain in the os sacrum.
Involuntary emission of urine.
Nocturnal emission of urine.
Wetting the bed at night.
Pain in the coccyx when urinating.
Male
Eruption of pimples on the prepuce, and on the penis.
Dropsical swelling of the prepuce and the scrotum.
Dropsical swelling of the testes.
Emission of semen, almost involuntary, without erection.
Absence of emission of semen during coition.
Female
Vesicles and pimples on the vulva.
Excoriation on the vulva and between the thighs.
Soreness of the vagina.
Womb
Pain in uterus when reaching high with arms.
Genitals
Tension and cramp-like pains in the genital parts, with troublesome voluptuous ideas.
Voluptuous excitation in the genital parts.
Indifference, or extreme excitement of sexual desire.
Violent erections.
Uncontrollable sexual excitement.
Priapism.
Absence of erections in the morning.
During an embrace painful cramps in the calves.
After an embrace coldness of the legs, exhaustion, heat of the body, and perspiration.
Feeble enjoyment during coition.
Flatulent colic during the excitement in the genital parts.
Great aversion to coitus.
Painful swelling of the ovaries; agg. every time she takes cold or gets her feet wet.
Tumour in r. iliac fossa; also l.
Sensation of bearing down towards the genital parts.
Leucorrhoea, white and liquid, like water, with tension of the abdomen, and weakness in the back.
Leucorrhoeic discharge occurs in gushes day or night.
Painful sensibility and excoriation of the breasts, with eruption of running phlyctenae.
Obstruction and induration of the mammary glands.
Hard cicatrices remaining after mammary abscess.
Menses
Swelling and hardness of ovaries after menses.
Tearing, grinding, bursting in r. ovary, as if it would burst, before and during menses.
Catamenia too slow, too scanty, and too pale.
The first menses delay.
Suppression of catamenia, with heaviness of the limbs and congestions of blood to the head.
Cutting pains on the appearance of the catamenia.
During the catamenia, flow of blood from the anus, pains in the limbs, ulcers become worse, swelling of the cheeks or of the feet, catarrh, with hoarseness and coryza, toothache, or cramps and violent cuttings in the abdomen, headache, nausea, pain in the chest, and weakness.
Before and during the menstruation, fatiguing cough (morning and during the day.).
Leucorrhoea, before and after the catamenia.
≡ more ...