Black Lead, Graphite, Graph.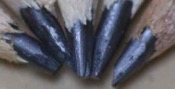 Have you ever used Graphites? Yes No


Below are the main rubriks (i.e strongest indications or symptoms) of Graphites in traditional homeopathic usage, not approved by the FDA.
GENITALS ETC
Urine
Urging to urinate, with scanty discharge.
Frequent urination at night.
Urine dark brown; becomes turbid and deposits a white or reddish sediment; smells sour.
Stitches or smarting in the urethra when urinating.
Pain in the os coccygis while urinating.
Male
Nocturnal emissions, with flaccid penis.
Dropsical swelling of the prepuce and scrotum.
Hydrocele (left side), with herpetic eruption on scrotum.
Female
Vesicles or excoriations in the vagina.
Vagina cold.
Excoriations in perineum, vulva and between thighs.
Womb
Pain in the uterus when reaching high with the arms.
Bearing down pain in the uterus to the back, with weakness and sickness.
Genitals
Uncontrollable sexual excitement; violent erections.
Impotence, with dislike to coition.
Want of proper sensation during coition.
Almost involuntary emission, without erection.
Great aversion to coitus.
Tumor, size of an orange, right iliac fossa, also similar one in left; both hard, round, slightly movable, not painful to pressure, not producing inconvenience from weight.
Pains from left ovary through pelvis and down the thigh.
Os uteri standing backwards, can only be reached with difficulty.
Painful pressure towards the pudenda.
Profuse leucorrhoea, perfectly white, especially on rising from the bed in the morning weakness of the back when walking or sitting.
Leucorrhoeal discharges occur in gushes day or night.
OEdema of the pudenda.
Menses
Menses too scanty and too pale; too late, with violent colic; blood sometimes dark.
During the menses heat in abdomen; urging, pressing like labor-pains; hoarseness; lassitude and weakness.
Copious leucorrhoea, before and after the menses.
Pregnancy
Tendency to obesity.
Nipples painful.
Hard cicatrices remaining after mammary abscess.
≡ more ...